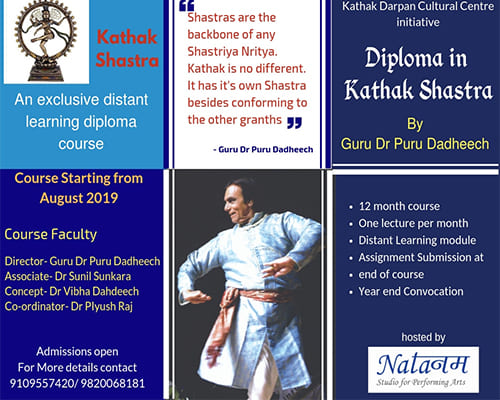 This is the first ever Diploma course in Kathak Shastra by Guru Dr Puru Dadheech, filling a long existing gap in Kathak teaching. This is a specifically designed course since there is not much researched and documented material on this topic. Amongst all of Indian classical dances, Kathak holds a prominent place of honour. However, the question that is often raised is this: "on what shastras or scriptures is this dance form based". It is commonly accepted that all Indian classical dances follow the guidelines laid down in Bharat Muni's Natya Shastra. The Natya Shastra originated from north India and traveled all the way down south. Yet, with the passage of time, classical scholars from various regions wrote many scriptures on classical dance that lay the foundation for dances of their own region.
Diploma course on "Kathak Shastra" is conducted by Guru Dr Puru Dadheech. The assisting faculty includes Dr Vibha Dadheech and Dr Sunil Sunkara along with Dr Piyush Raj and Tush Dadheech as the course coordinators.
COURSE SCHEDULE: We have one video lecture every month delivered by Dr Puru Dadheech and the practical aspects and experiments being demonstrated by Dr Vibha Dadheech and some of his other students. Each lecture is of approx. 3-hour duration, covering different aspects of the syllabus of this course. All video lectures are translated it into different languages to make the research accessible for students across the world. At the end of the course, all students would be given assignments to submit their research papers. All deserving research papers along with the Lecture transcripts and many research articles by Dr Dadheech and faculty members are to be published as a book "KATHAK SHASTRA" by Dr Puru Dadheech.