About the show :- LINK FOR TICKETS- SHOW TICKETS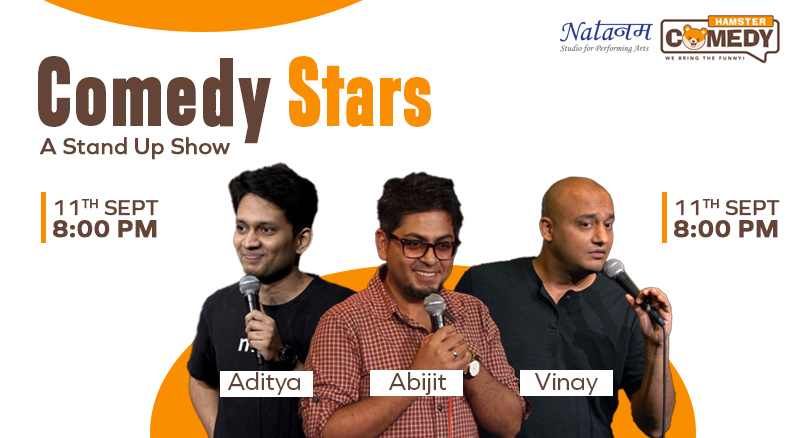 Come witness the top comedians of India from TV and YouTube try out brand new
material at one of the coolest venues in Mumbai. Hamster Comedy brings stand-up
comedy to the western suburbs!
The show will be hosted by the very funny Varun Nair.
Special Acts: Abijit Ganguly, Vinay Sharma, Aditya Ganguly, Siddhartha Shetty, Ankit
Bareja
There could be last minute changes in the line-up due to unforeseen circumstances.
The event will be held at Natanam Studio For Performing Arts, a premier performing
arts centre in Goregaon (East).
Vinay Sharma - Vinay Sharma is yet another IIT-Bom pass out who thinks he is
funny. He is currently doing ground-breaking research on how to make people
from South Bombay laugh (Upper Worli not included). Vinay jokes about things
that concern him the most shaadi.com, star signs and hair loss. Vinay informs
us that the green sneakers with yellow laces he recently bought are helping his
confidence. From the inside, however, he is still a Kachori enthusiast and
street food critic. Clearly coming from a heavily Sanskaari background, stand-up may be the
only thing keeping him from turning into the very uncles he hates. And it may
be working, for now. Vinay has been one of the most consistent performers on
the stand-up scene and is considered among the most promising artists in the
country. He is regularly featured at Canvas Laugh Club and other top venues
across the country and private shows with the most diverse of audiences. And
his father wanted him to do a PhD, lol Dad!

Abijit Ganguly - Abijit Ganguly is funny. He claims he's never been on Tinder.
He is also very funny. He's certain one day he'll have six pack abs and be
better looking than the handsomest Bengali Bappi Lahiri. Did we mention he is
funny? Recently married to his long-time Gujarati girlfriend, Abijit's life has
been changing and how. While some have been congratulating him, some
have been passing their condolences. He, on the other hand, claims he's
taking one for the career. The pain should give new material